It is one of the most diverse nations that you'll ever find. Surrounded by rainforests and tropical oceans, this country is enriched with a fascinating culture. Figured out the country being talked about? Yes, it's none other than Brazil. Besides having popular carnivals and loyal soccer supporters, Brazil is more captivating than you can imagine. Here are some hotels you could stay at during your trip to Brazil.

Windsor Copa Hotel

Being synonymous with charm and tradition, this hotel is located at a stone's throw away from Copacabana beach. Being one of the true gems in Rio, this hotel caters to the needs of tourists and business travelers. Rooms here include Standard Double, Standard Twin, Superior Double, Superior Twin, and Executive Superior Double. Other amenities offered consist of transfer, high-speed internet, fitness room, buffet breakfast, and beach towels as well. Rooms here are priced in the range between $230 and $350.
Address: Av. Nossa Sra. de Copacabana, 335 – Copacabana, Rio de Janeiro – RJ, 22020-002, Brazil

Hotel Regina

Located within close proximity from the local attractions, the Hotel Regina in Rio De Janeiro is designed to please you. With tastefully designed decor, this hotel has four room options i.e. Standard, Higher, Luxury, and Adopted. Rooms have been designed thinking of senior citizens with reduced mobility as well. Other facilities include free car parking, express check-in, breakfast, personalized diet, and so on. Rooms here start at the price of $50 per night.
Address : R. Ferreira Viana, 29 – Flamengo, Rio de Janeiro – RJ, 22210-040, Brazil

Arena Leme Hotel

This beachfront property is one of the first choices of tourists visiting Rio De Janeiro. Located at a close distance from Praia de Copacabana beach, this hotel equips itself with modern amenities such as TV, air conditioning, telephone, sauna, pool and so on. In addition, you can rejuvenate yourself with the buffet breakfast every morning. In case you are planning to visit the Sugarloaf Mountain, this property is just 3.2 km away. Rooms here can cost you $100-$200 per night.
Address : Av. Atlântica, 324 – Leme, Rio de Janeiro – RJ, 22010-000, Brazil

LSH Lifestyle Hotel

Located in front of Barra da Tijuca Beach, the LSH Hotel redefines elegance and modernity. The best part about this place is the infinity pool that lets you rejuvenate as you look at the ocean. In addition, they offer modern amenities such include free wifi, flat-screen TV, air conditioning, private bathrooms, etc. Some of the rooms come with private bathrooms that adorn themselves with hairdryer, free Malin+Goetz toiletries, and so on. Shall you desire to satisfy your tastebuds, Esplanada Grill Restaurant awaits with scrumptious dishes.
Address : 1996. Acesso:, Rua Professor Coutinho Fróis, 10 – Barra da Tijuca, Rio de Janeiro – RJ, 22620-360, Brazil

Emiliano Rio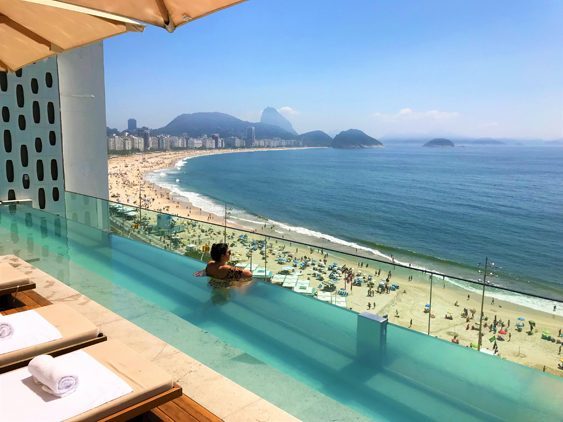 Located near Copacabana Beach, this hotel embraces the natural light and boasts of its contemporary architecture. Letting you be connected to the sea view round the clock, this property has modern rooms with amenities such as flat-screen TV, coffee machine, private bathroom, etc. The on-site restaurant uses organic products to thrill your tastebuds. Whether you want to reinvigorate yourself in a swimming pool or spa, this hotel has it all. If you are traveling from the Santos Dumont Airport, you'll find this property to be 8 km away. Rooms here cost between $427 and $980.
Address : Av. Atlântica, 3804 – Copacabana, Rio de Janeiro – RJ, 22070-001, Brazil

Hotel Ibis Styles Sao Paulo

Located at a walking distance away from the Barra Funda Metro Station, the Hotel Ibis Styles is known for offering pet-friendly accommodation. Besides offering amenities such as free wifi, flat-screen TV, air-condition, this hotel equips itself with a 24-hour front desk as well as a Peruvian restaurant. The locality is ideal for tourists looking for vibrant nightlife and entertainment. The 24-hour front desk here will help you with anything you need assistance for.
Address : Av. Marquês de São Vicente, 1619 – Parque Industrial Tomas Edson, São Paulo – SP, 01139-003, Brazil

Mercure Sao Paulo Vila Olimpia Hotel

This hotel located in the Vila Olimpia district equips itself with modern amenities that every tourist will ever ask for. Besides having a swimming pool and sauna, this property is designed with an aesthetically pleasing interior. The Italian restaurant here serves mouthwatering dishes. Other facilities offered include 24-hour reception, laundry, minibars, optional breakfast, and much more. Prices of the rooms can vary between $81 and $123.
Address : R. Santa Justina, 210 – Vila Nova Conceição, São Paulo – SP, 04545-041, Brazil

Radisson Paulista Plaza

Located at the heart of Sao Paulo, this hotel is a stone's throw away from the financial and commercial district. Amalgamating space and modernity in a pleasing manner, this hotel comes with some of the most sought after amenities i.e. wifi, TV, work desk, hairdryer, etc. The on-site restaurant All Seasons here features a special menu crafted by the famous chef Christoph Besse. Apart from buffet breakfast, you can enjoy the hospitality of the hotel staff. Prices of rooms here range between $97 and $143.
Address : Alameda Santos, 85 – Paraíso, São Paulo – SP, 01419-000, Brazil

Marriott Executive Apartments Sao Paulo

If you want to stay in aesthetically decorated apartments in the heart of Sao Paulo, this is the best option you'll find. Let your mind rejuvenate itself beside the swimming pool in the evening. The breakfast served every morning includes bread, cakes, beverages, fresh fruits, etc. In addition, they also have a gym where you can work out in the morning. Located within close proximity from the financial and commercial districts, this hotel gives you access to a locality that is lovely and thriving. Being a 4-star hotel, the prices here can reach up to $200.

Address : R. Prof. Filadelfo Azevedo, 717 – Vila Nova Conceição, São Paulo – SP, 04508-011, Brazil
Hilton Sao Paulo Morumbi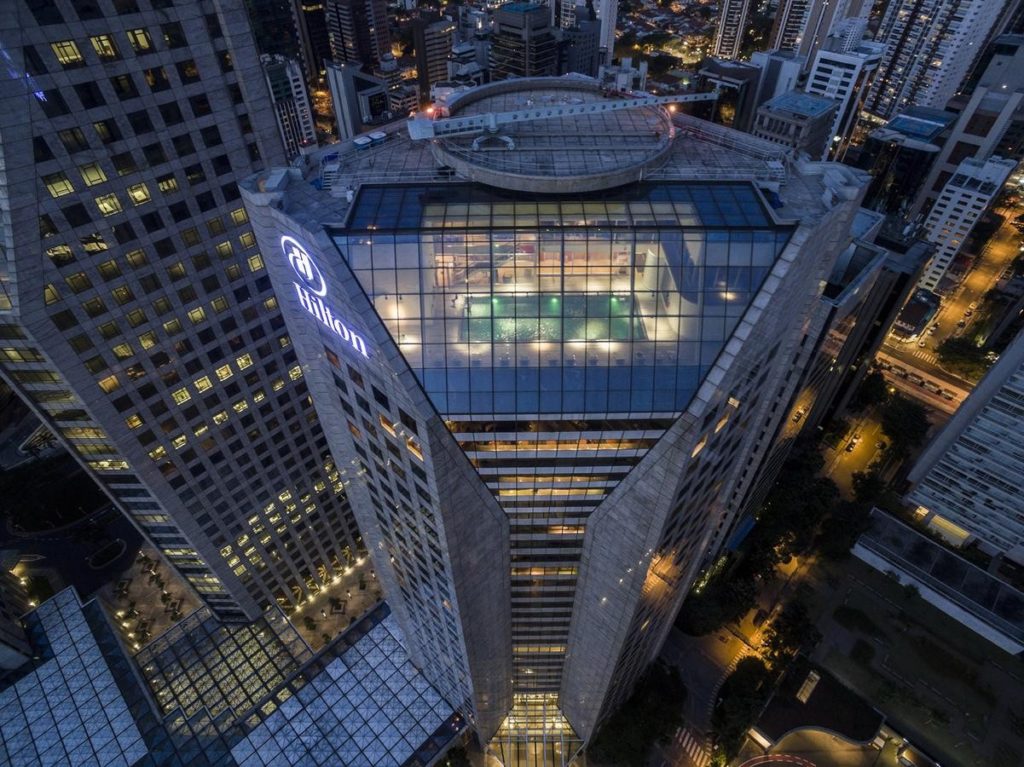 Located inside the CENU complex, this hotel is within walking distance from the Berrini Train Station. The tastefully decorated rooms here come furnished with beds, TVs, WiFi, minibar, etc. Some of the rooms provide you with access to the executive lounge. You'll be amazed to see the Ponte Estaiada suspension bridge which can be seen from most of the rooms. The swimming pool on the 28th floor is perfect for those who love enjoying the skyline. In addition, you get to enjoy natural treatments at the spa. The prices of rooms here start from $130 approximately and can go up to $250.
Address : Av. das Nações Unidas, 12901 – Brooklin, São Paulo – SP, 04578-000, Brazil

These hotels in Rio De Janeiro and São Paulo provide you with the utmost comfort amidst tastefully designed decor. Irrespective of your budget, you can always find a property that adds to your experience in Brazil. Keep this list of hotels in Brazil handy while looking for hotels in Rio and Sao Paulo.